Meet Dr. Hayes Modlin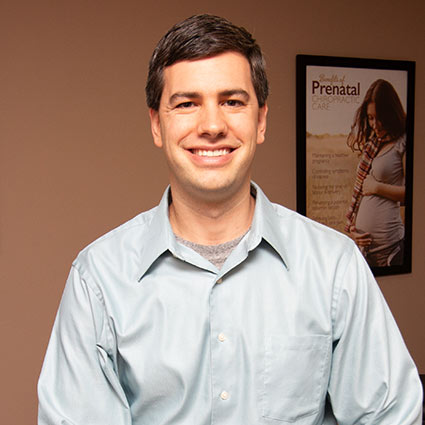 From a young age, Dr. Hayes was interested in a career in healthcare as a means of helping others. He was not introduced to chiropractic until much later in life, but was immediately drawn to the idea of correcting the root causes of pain and other health issues as well as promoting strategies for long-term health and wellness.
Chiropractic Education
Dr. Hayes earned his Doctor of Chiropractic from Life University. His most significant moment was getting introduced to pediatric chiropractic, which helped him further understand the benefits of chiropractic care beyond pain management. Dr. Hayes is Webster certified and has the CACCP prenatal/pediatric certification from the ICPA. "Now the entire family can receive amazing chiropractic care in our office!" His postdoctoral work has also led to a much deeper understanding of the interconnectedness of the body and how seemingly small adjustments applied with low force can have far-reaching effects for a patient.
A Passion for Helping Patients
Caring and compassionate, Dr. Hayes' patients can quickly tell that he's concerned for them and the issues they are having.
I want to do whatever I can to help not only those issues but their overall health."
Dr. Hayes finds it particularly fulfilling when patients notice improvement about something completely unrelated to what they came in for and they begin to understand how big of an impact chiropractic can have on their life.
EXPLORE OUR SERVICES
Enjoying an Active Family Life
When he's not at the practice, Dr. Hayes loves spending time with his incredible wife, whom he met in college, and their young daughters. The couple has a little boy on the way.
"We homeschool our kids, so we get to spend loads of time with them every day of the week. We believe our family is a team, so we function better if we value the team over the individual. That's why we try to involve our kids in our lives and work as much as possible." The family also loves playing games together.
Dr. Hayes also is an ultimate Frisbee devotee and plays in a local league and on a traveling club team. Additionally, he loves board games and has about 500 of them! Dr. Hayes also leads a group of middle schoolers at his church.
In addition to the family he created, Dr. Hayes came from a wonderful family in Hickory, North Carolina. He has an older brother and a younger sister. "I was taught to keep God at the center of my life, and to let everything else follow from that, which I try to instill in my children as well."
Book an Appointment
Contact us today to schedule an appointment with Dr. Hayes!

Dr. Hayes Modlin | (864) 605-7350