New Patients at Continuum Chiropractic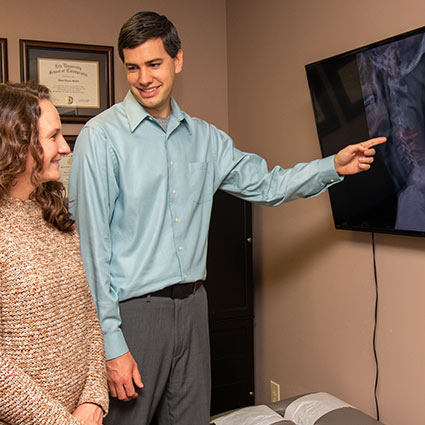 What to Expect When You Arrive
We don't require any preparation before your consultation, aside from bringing all of the questions and concerns that we can address for you. When you come in for your first adjustment, we do require that you fill out new patient paperwork ahead of time and wear comfortable clothing, but this is not necessary for a simple consultation.
Our new patient process usually spans two visits.
ONLINE FORMS »

On your first visit, we spend a lot of time establishing everything you need to know about us, what we do, and why we do it. We explain how our chiropractic adjustments work and how they may help you. We also perform a thorough exam and history that allows us to fully understand why you have come to us, how you need to improve today, and your ultimate goals. We have a series of advanced scanning technologies that help us truly understand your underlying condition, which may include insight technology, x-rays, and neurological scanning.
We often adjust on the first visit if we have all of the information we need to do so. We recommend budgeting about an hour for this visit.
Your second visit begins with a thorough explanation of our findings. We take the time to explain exactly what your examination and our scans have told us in great detail, and draw up a care plan that reflects your unique condition. At that point, we decide together if moving forward with that care plan is the best option for you. We recommend budgeting about half an hour for this visit.
Our new patient process is a two-step process that each patient must fully understand and consent to before we move forward. First, the patient decides if they want to move forward with a thorough exam. Then, we decide together if we want to move forward with care. Our patients are involved with every decision in their care plan and we communicate our entire process along the way.
We discuss finances during our consultations, prior to care. Our fees are competitive in the Greenville area. We accept all major credit cards.
We take a neurostructural approach to scanning that helps us examine and assess posture and structure of the spine through x-rays. This allows us to understand how your underlying structures have been negatively affected with specific measurements. We have three neurological scans that we run for each adult patient, which are not invasive but do tell us how the different components of the nervous system have been negatively impacted by what we see in the structure.

New Patients at Continuum Chiropractic | (864) 605-7350