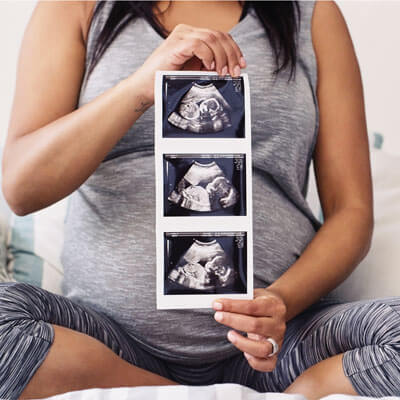 Prenatal Chiropractic Care
Prenatal chiropractic is a very safe, noninvasive, minimal, and gentle approach to maternity care. We offer prenatal adjustments to support healthy pregnancies and offer relief from prenatal pain and discomfort. Our approach to prenatal care is different from regular care, because the prenatal body is flooded with hormones and physical changes.
As your ligaments prepare the pelvis for birth, your body is setting your baby up to move easier, which is an incredible function of the body. The downside of this is that it can be easier for your pelvis or sacrum to shift in ways that are not necessary or appropriate, and we check for this and other ways that we can facilitate the body's process as it prepares for birth.
While every pregnancy is different, prenatal chiropractic adjustments have been associated with shorter, better-coordinated labor, less back pain during pregnancy, less pain and discomfort in the third trimester, better movement, and increased energy. We find that many of our patients who start to get adjusted later in pregnancy express regret that they didn't start earlier, as the relief from back, hip, and leg pain can be a great benefit.
Mom isn't the only one who benefits from prenatal chiropractic care. Your baby can benefit from the proper alignment of the hips and pelvis because it creates the best environment for delivery.
We recommend that pregnant women come in for care weekly. We change frequency as your pregnancy progresses or to your specific requirements, including breach considerations or extra pain. Because prenatal care is one of our primary specialties, we offer lots of carefully curated resources with strategies on holding your adjustments and facilitating birth with stretches, exercises, websites, handouts, and devices.
We offer guidance on diet and body preparation to help ensure a generally healthy pregnancy as best we can, and we work with doulas to help you access all of the resources, information, and support you may need.
We use special pillows that allow you to lay on your stomach at any stage in pregnancy and use the Webster technique. Dr. Hayes holds advanced certifications in this technique and has worked regularly with prenatal patients for the duration of their careers, so you can rest assured that you are in educated, experienced hands.
Our prenatal visits take about 20-30 minutes and involve extensive communication, comfortable positioning, and general stretching and motion exercises prior to your adjustment. We always offer extra information and time for our prenatal patients because we want to ensure your comfort and set you up for a healthy pregnancy as best we can.
We always include a newborn checkup as part of our prenatal care plan, and our prenatal chiropractic service line is our only offering with a dedicated emergency line and emergency hours. Our care plans extend beyond birth and through recovery, to help get you on track for efficient and effective healing.
Learn More About Prenatal Chiropractic Care
Contact us at (864) 605-7350 to set up your prenatal consultation with Dr. Hayes. Our advanced certifications in the Webster technique and our extensive experience with prenatal care help us provide careful, compassionate, and effective adjustments for our expectant mothers. Set up your consultation to learn more today!
CONTACT US

Prenatal Chiropractor in Greenville SC | (864) 605-7350